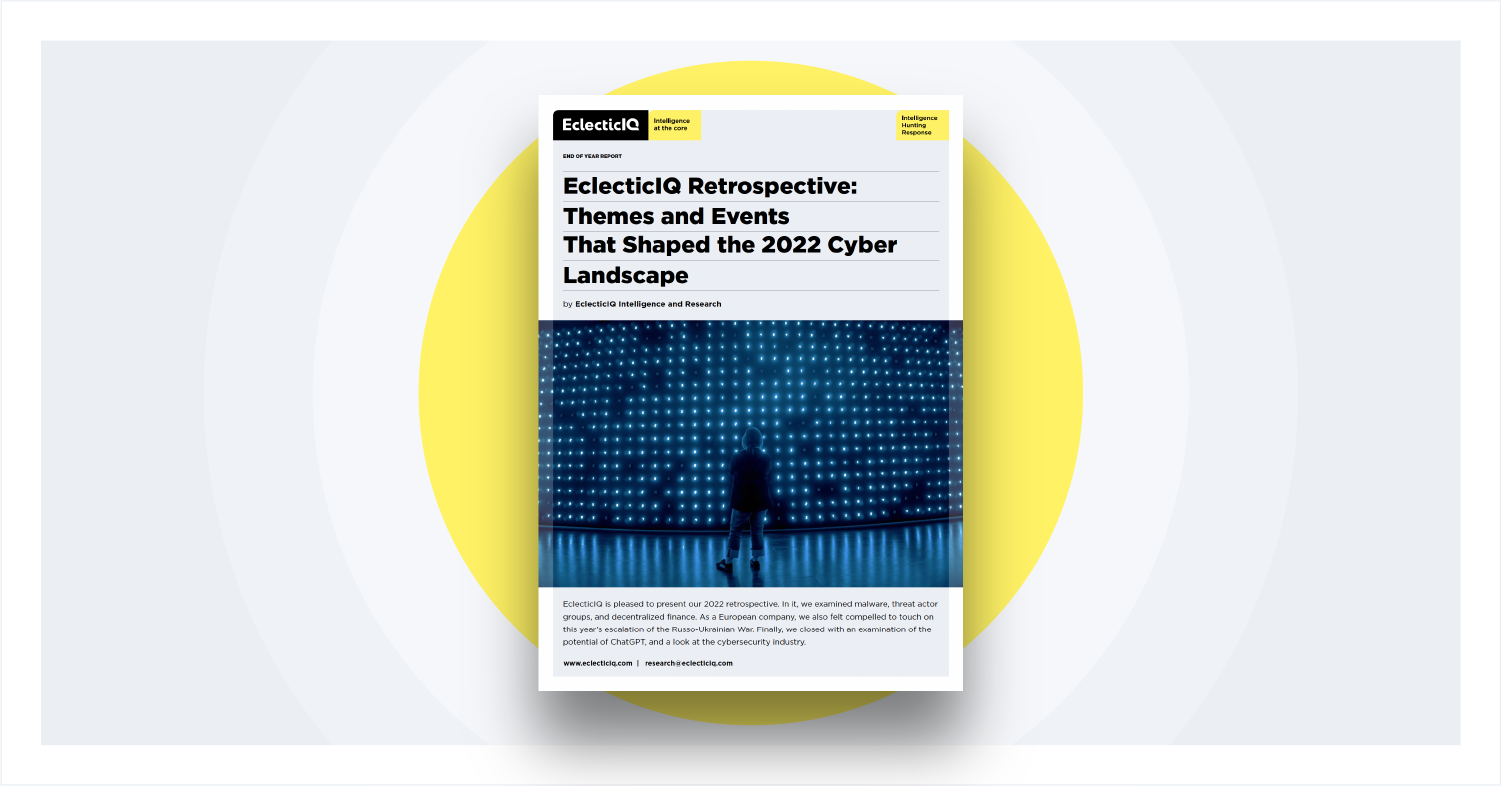 As this year draws to a close, EclecticIQ's Intelligence & Research Team looked back on another year of growth and change in cybersecurity. This year brought about changes in malware TTPs and threat actor groups, which are central topics to cyber researchers around the world. The team examined the cyber industry itself and how it changed – albeit gradually – throughout the year. This paper also touches on the tumultuous year in decentralized finance (DeFi) and cyber angle of one of the year's most shocking events: the Russian invasion of Ukraine. Finally, EclecticIQ analysts examined the potential of ChatGPT.
Below is a brief overview of the report's key themes. You can download the full report by clicking on the button below (open access, no details needed).
I: Malware: Changing Malware Across 2022 Highlights the Tactics Evolving for Initial Access
Evolution of initial access tactics and techniques used in malware drove further cyberattacks this year. Threat actors demonstrated their ability to incorporate new technology, including deepfake media, and resurface despite increasing pressure from coordinated infrastructure takedowns.
II: Threat Actor Groups: Extortion-Only Groups Played a Major Role in 2022
Criminal groups primarily leveraged extortion techniques. Information stealers played a major role in criminal operations and "double/triple extortion" is becoming commonplace. EclecticIQ analysts assess extortion will evolve during 2023 with "extortion-only" groups playing a more predominant role in the criminal ecosystem.
III: The Cybersecurity Industry: Gradual, Steady Progress for the Cybersecurity Industry in 2022
The cybersecurity industry experienced incremental change and growth this year; EclecticIQ analysts were most appreciative to see governments adapt to address enduring cybersecurity challenges and use creative methods to disrupt cyber threat actors. In 2023, the cyber industry should prioritize cybersecurity education, and companies that have not already done so should follow the lead of other companies elevating cybersecurity to a C-suite issue.
IV: Cryptocurrency: 2022 Juxtaposed Increasing Cyberattack Activity in Decentralized Finance with Decreasing Market Capitalization
Increasing cyberattack activity coupled with decreasing market capitalization drive incentives likely to change decentralized finance over the short term. Patterns identified in the cyberattack landscape set the stage for short-term challenges to end users and organizations alike.
V: The Russia-Ukraine War: Cyber Operations had Limited Effects
Russian cyber operations against Ukraine did not deliver key anticipated strategic advantages. EclecticIQ analysts assess effects of cyberattacks complementing military objectives did not materialize as anticipated. Significant support by Western partners hardened Ukraine's cyber defense capabilities. Russian information operations will likely continue with espionage activities focused on Europe's response plan to an energy crisis.
VI. Emerging Technologies: ChatGPT
The introduction of ChatGPT presents new opportunities for CTI analysis and has the potential to fundamentally disrupt 2023's technology landscape.

About EclecticIQ Intelligence and Research
EclecticIQ is a global provider of threat intelligence, hunting and response technology and services. Headquartered in Amsterdam, the EclecticIQ Intelligence and Research team is made up of experts from Europe and the U.S. with decades of experience in cyber security and intelligence in industry and government.
We would love to hear from you. Please send us your feedback by emailing us at research@eclecticiq.com or fill in the EclecticIQ Audience Interest Survey to drive our research toward your priority area.
You might also be interested in:
Investigating NATO-Themed Phishing Lures With EclecticIQ Intelligence Center and Endpoint Response Tool
Ukraine-Russia Conflict: Ukraine Alerts Energy Enterprises to Possible Cyberattack Escalation
2021's Challenges Highlight the Need for Intelligence-Based Cyber Defense