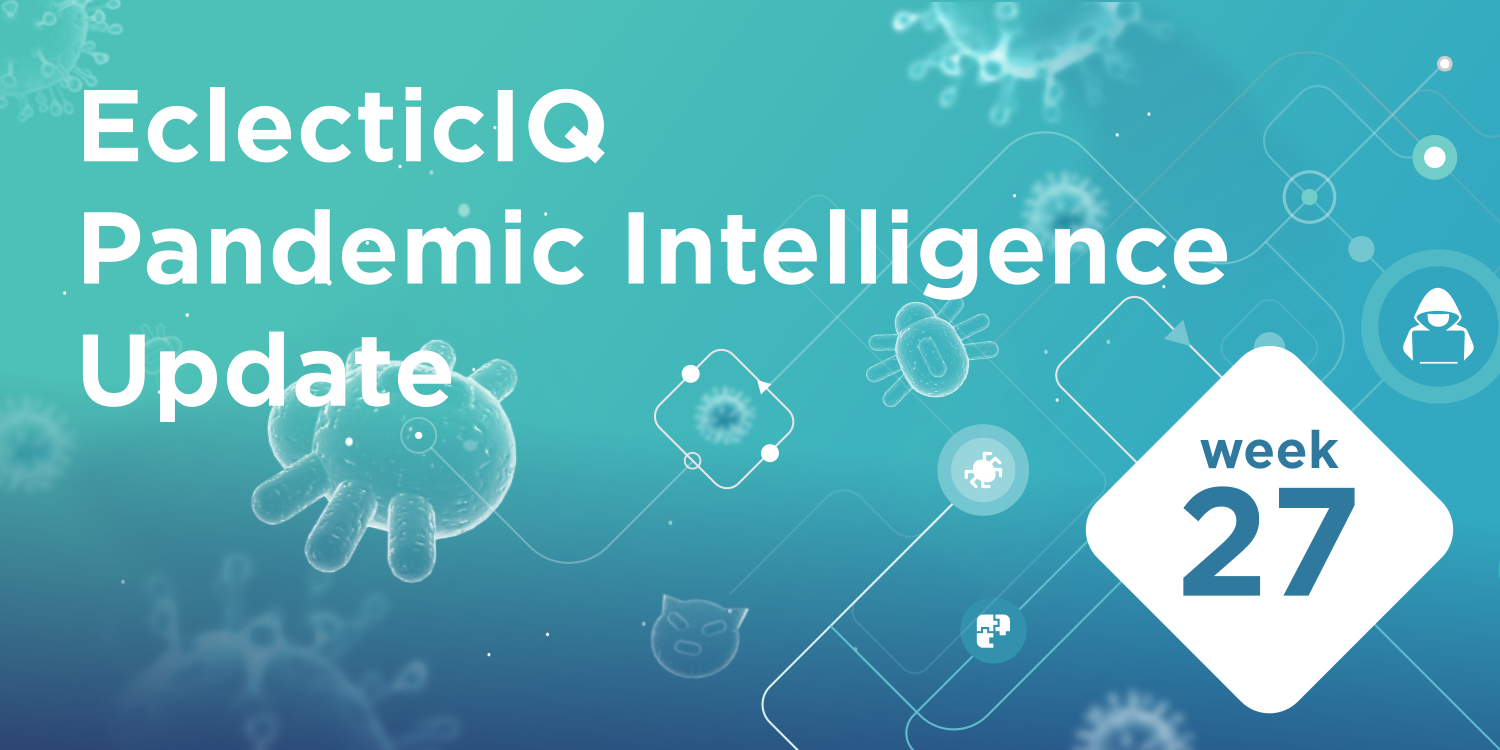 As Europe's leading cyber threat intelligence company, we at EclecticIQ have decided to make use of our resources and provide the community with custom reports on threats connected to the COVID-19 pandemic throughout the duration of the crisis. This is the 15th report in a weekly series of updates to inform of important developments to COVID-19-themed attacks.
Key Findings
Ransomware attacks on healthcare bring the highest risk to regions that struggle to contain pandemic infection rates.
Android users have high risk of exploitation through COVID-19 malicious apps.
Over 200k COVID-19 patient records in Indonesia were exposed as early as May 6, 2020.
Analysis
States and regions with deficient pandemic management practices will very likely experience greater effects from cyberattacks.
Increased COVID-19 patients produce additional stress on resources and infrastructure of healthcare networks, to which they are not normally accustomed. Downtime to health network systems caused by malware can affect the intake and processing of patients who could have COVID-19. The increased strain can amplify the effects of cyber-attacks that affect the production environment of health organizations experiencing increased pressure during the pandemic. Crozer-Keystone Health System, a health care provider in Philadelphia, US was hit with Netwalker ransomware. The attack comes just as the US infection rate is spiking for a second period. A company spokesman statement claimed incident response may have been successful in preventing a full infection, but the threat actors claim to have exfiltrated some data from the attack.
Threat actors exploit COVID-19 related malicious apps for Android.
EclecticIQ analysts continue observing more reports of Android exploitation over other platforms. The trend is very likely driven by the popularity of the platform creating the largest pool of potential victims and more apps are being released. New ransomware targeted Android users of Canada's official COVID-19 tracking app. ESET researchers were able to create and release a decrypter due to flaws in how the ransomware managed its encryption keys. The source code, from which the ransomware was developed was released on June 11, 2020 by another, separate threat actor.
The decryption tool for the malware can be found here.
The development and release of more COVID-19 tracking apps creates a larger attack surface for threat actors to expose healthcare data.
Personal healthcare data is at higher risk of exposure from breaches of COVID-19 specific health records. Recently, more than 200k personal records of COVID-19 patients in Indonesia were discovered in a darkweb repository. The data is comprised of personally identifiable information (PII); name, address, telephone number, citizenship, diagnosis date, and test-result. The timestamps from the data indicate it may have been available by May 06, 2020, but was not officially reported until June 21. The breach timing occurred after Indonesia began reporting new peak infection rates as well as record recovery rates. It is possible that a threat actor was motivated to expose the data by inconsistencies in official reporting. The first official COVID-19 patients in Indonesia had their personal info exposed by the President of Indonesia before they knew of their own results, prior to May 6, 2020. The surrounding events bring into question the COVID19 patient data stewardship practices in the first place.